Wednesday, 17 May 2006
Stuck at home on a rainy afternoon? Bored? Don't worry, I have a cool experiment you can do that will make being inside as much fun as the outdoors. Think how impressed your folks will be when you show them how to make balloons float by using only household items.
Caution: Do not try any of these experiments without adult supervision! If you are over eighteen, then why are you stuck at home? Go to a movie!
Making Homemade Helium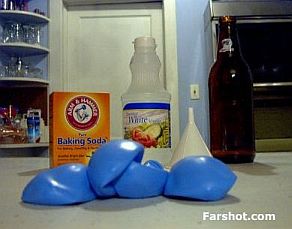 Safety Equipment: Eye wear.

What you'll need: A bottle with a narrow neck

Vinegar

Baking soda

Funnel

Water Balloon

Step One: Pour about two inches of liquid; one inch vinegar, and one inch water into your bottle.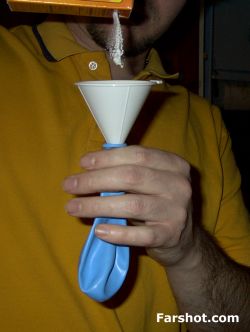 Step Two: Use your funnel to fill the balloon half full of baking soda. Make sure you use plenty of baking soda! If you don't use enough your balloon will partialy inflate.
Step Three: It's important to make sure you have wiped the neck clean of any moisture! If the balloon gets wet you have a chance of getting the baking soda moistened, and you could possibly ruin the experiment. Stretch the open end of the balloon over the neck of the bottle. Make sure it's on tight! Let the heavy end of the balloon dangle, so no baking soda goes in the bottle.
Step Four: Hold onto the ballon at the bottle neck, and pick up the heavy part of the balloon so that all the baking soda falls into the vinegar at the bottom of the bottle.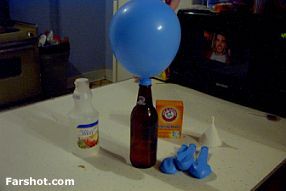 You should hear a lot of fizzing! The bottle should look like it does when you shake a can of soda! Now Let's see the results of our experiment!
Congratulations on a successful experiment!