Thursday, 08 January 2004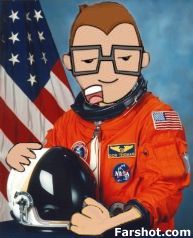 A few days ago the The Mars Exploration Rover "Spirit" landed near the Gusev Crater on the planet Mars. It is so amazing to me to think that we now have the capability to explore other planets, even if it is just unmanned probes. I know one day we will have human colonies on other worlds, and we are seeing the first steps toward that direction. I looked up some info on Mars and here is what I found:
Mars is the fourth planet from our sun, and the seventh largest. It is named after the Roman god of war. It is a very dry planet, but scientists are hoping we may yet find water there. Mars also has two moons called Phobos and Demios.
Another cool thing about Mars is that it is visible to the naked eye in the nightitme sky. It is very bright and has a yellowish tinge in color. The only brighter planet visible is Venus.
There are so many cool things you can learn about Mars. I found this link about Mars to get you started. Happy exploring!