Sunday, 18 January 2004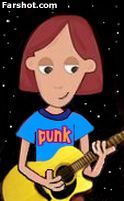 "We have gone so far from a melody, you know, and genuine musical ability. Youíve got an appalling amount of mediocrity and amateurishness in the foreground now. Because nobody cares, as long as it sells. Itís not music anymore, itís just ick." - Joni Mitchell on "new" Music.

Music is defined by the differences in dynamics and melodies of a song. I totally love the new "wave" of rock bands that have hit the radio waves recently. Most of these songs follow a pattern of soft verse, hard chorus, soft verse, hard chorus, really hard bridge, and end with a (You guessed it!) hard chorus. This is a sure way of creating a great song, but I wonder what will happen when this gets old?

I love rock. When I say that I love rock, I don't mean any one type of rock. I like hard rock bands like Disturbed and Godsmack, I like Classic rock bands like The Doors and Led Zepplin, I like punk bands like Blink 182 and Sum 41. In fact, the reason I like rock music so much is because it encompasses so many musical styles.

There is a lot of classic rock influencing music today. The new Three Doors Down album is a good example, or even Pearl Jam's new song "Save You," which sounds inspired by Jim Morrison, but not all new rock music is going the "classical" route. Bands like The Vines and The Strokes have a very modern punk influence, very Nirvana-like.

Music is an amazing thing. It truly is the universal communicator, but what I think is the greatest thing about music is its ability to evolve with the world and still remain the same. A good song is a good song, whether its a classic like "Can't You See" by the Marshall Tucker Band or a modern hit like "Warning" by Incubus.

Rock on!