Wednesday, 17 December 2003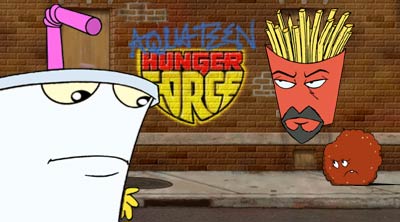 Today I'm going to talk about my favorite cartoon on the cartoon network, Aqua Teen Hunger Force. The ATHF (as the toon is known by its fans) is mostly about three characters: Frylock ( A talking flying container of french fries), meatwad ( a one toothed wad of meat) and Shake ( A large talking milk shake). All three run a detective service out of there house; though nothing ever actually gets solved.

Every episode they have a new problem to solve, often just a new creature or item that the evil "Dr. Weird" keeps creating.
The Funniest thing about the cartoon is the characters. Their interaction with each other are hilarious. They constantly are mean to one another but like a weird family they seem to stick together when times are rough. Their next door neighbor Carl is always trying to keep them out of his swimming pool and off of his lawn, but they live to destroy anything Carl actually owns.
This show is the best, so you should definitely watch as many episodes as you can. They are only about 10-15 minutes a piece, like small doses of comedy, but still more then enough to keep you talking about the show for weeks.
Here is a Listing of Display times
Take the Aqua Teen Hunger Force Quiz
I Turned out to be Frylock
Check out the Number 1 Aqua Teen Hunger Force Site Online
They'll tell you everything ever wanted to know about the episodes