Sunday, 06 March 2005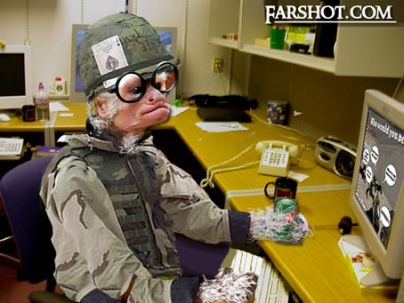 10. Everytime you see a flag you dive under it, screaming, "Turn, turn, turn!"
9. You constantly embarrass yourself by asking war veterns what maps they fought in.
8. When you're bored at work, you catch yourself looking for the map vote button.
7. In bed you ask your wife to call you "Papa Bear," and you say naughty things such as how you want to "reinforce her outpost, IMMEDIATELY!"
6. You rig a keyboard to your car so it can only be driven with the keys "W,A,S, and D".
5. Hearing the word, "camping", makes you break out into fits of homocidal rage.
4. You land yourself in the hospital because you really can't jump off of building and parachute to safety in real life.
3. You wear a blindfold when you play Battlefield just to give other players, "a fighting chance."
2. You are shocked to discover that the Army doesn't just bail out of their helicopters and crash them when they arrive at their destination.
1. You name your kids KaPtiN_KlUtZ_LoL, and Sniper_eye_672.