Monday, 17 November 2003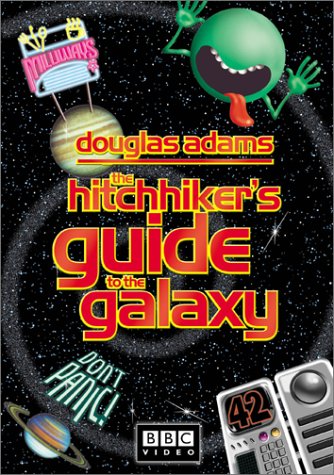 Recently, Jim has been reading Douglas Adams' The Hitchhiker's Guide To the Galaxy series, which is amazing in the fact that Jim is reading something that isn't a text book or instruction manual. I read the whole series years ago, and rather enjoyed it. (I was also into other British sci-fi/comedy series such as Red Dwarf and Doctor Who.) Douglas Adams' work had a significant impact on my choice to become a writer, and I have no doubt that his work will continue to be a source of inspiration and amusement to others for many years to come.

I think my favorite book in the series is the first book, "The Hitchhiker's Guide to the Galaxy." The story follows Arthur Dent, an Englishman, who wakes up to find that his house is about to be destroyed to make way for a new bypass. His attempts to stop this from happening mostly fail, and he decides to head to a local pub to drown his worries. He then discovers quite coincidentally that Earth itself is about to be destroyed to make a galactic bypass. Both events parralel each other hilariously, with a fine touch of poetic justice. Author Douglas Adams pummels the entire structure of bureaucracy as he describes how both galactic and terran authorities "attempted" to warn those who would be affected by the new bypasses. Arthur escapes Earth just as it is destroyed, and begins a thrilling romp throughout the galaxy with his new alien pal, Ford Prefect.

This book is extremely intelligent, thoughtful, and funny, yet it can also be irreverent, absurd, and satirical. Douglas Adams yarns are generally fast-paced, and it can be confusing at times, but they are satisfying reads. Trust me, once you've read the first book, the whole series will quickly become an endearing (as well as enduring) part of your literary collection.