Friday, 12 November 2004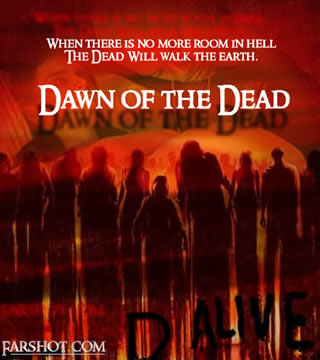 Review by DrummerGirl
Zombie movies scare the crap out of me. So naturally, I love zombie movies. I recently purchased the new Dawn of the Dead DVD. I liked the orignal 1978 movie because it was about zombies, but the plot pretty much sucked. The new version, however, FREAKIN ROCKS! Just imagine locking yourself in a local mall with five complete strangers for a month. Everyday you're there the HORDE (and by horde, I mean horde!) of zombies outside grows and grows until it numbers in the thousands. Everyone you know is dead, or worse - A flesh eating zombie!
One of the things I liked most about the remake was that the zombies were more like carriers of disease, than some sort of supernatural beings come back to life. The already deceased weren't coming back to life, but if you were bit by a zombie, then you turned into one. That makes more sense to me.
The DVD came with a butt load of special features, including a special news broadcast about the infestation, and a video diary of Andy's last days. (Poor Andy!) On a scale of 1 to 5, I give this DVD a stunning 4.99999! :)
Cover art property of John Atkins and Farshot.com(C)2004.