Wednesday, 21 June 2006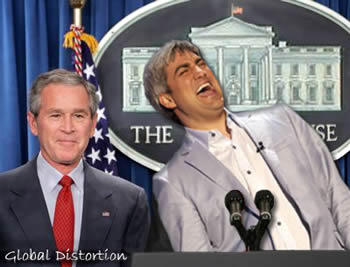 In a suprise move that stunned and shocked Idol fans all across the nation, President Bush has picked American Idol Taylor Hicks to be the next Press Secretary.
"I had to do something. My popularity as president has been slipping like a greased rattler going down a mountainside. I wanted to show the people I still had my finger on the pulse of middle America. As for the decision to pick who we did, well, it was either Hicks or Carrot Top, and I think we made the right move."
Tony Snow, the recently ousted Press Secretary and former employee of Fox News, had this to say, "We all knew someone was getting voted off, but I never thought it would be me. Ok, Dubyah was like a big brother to me, but you know, I guess ratings were more important. Rumsfield, he knew how to manipulate the others to vote me off Capitol Hill. Rice, she just smiles and acts like she is friends with everybody. I know she voted against me, but that's ok. I had a good time, and I'd do it again. I wish Hicks the best of luck."
Hicks, a native of Birmingham Alabama, was unavailble for comment, but his first transcripts were available from his first press conference:
Q Can you tell us more about the investigation over in Haditha?
MR. HICKS: Wooooooo!!!!
Q (Silence) Uh... I don't under...
MR. HICKS: Soul Patrol!!! Soul Patrol!!!
Q You are not answering the question.
MR. HICKS: Here is one of my favorite songs from Season 5, "In the Ghetto!" (Breaks out into song)
Q Oh to heck with it! Taylor Hicks, you got soul! Soul Patrol, Soul Patrol!!! (The whole room stands up and begins to clap)
President Bush had this to add, "That Hicks is something else, aint he? Talk about the ultimate song and dance routine! I've been waiting on something like this since my first term in office. Now we won't have to worry about anymore pesky questions about what we do here."